My first job when I became a dive instructor in my early 20's was on a small and relatively unknown island off Australia's east coast. Lord Howe Island is a diver's heaven and, during my seven years of working there seasonally, I came to know it as a second home. I compiled this travel journal during my most recent trip there. I hope you enjoy perusing my pics and travel tips!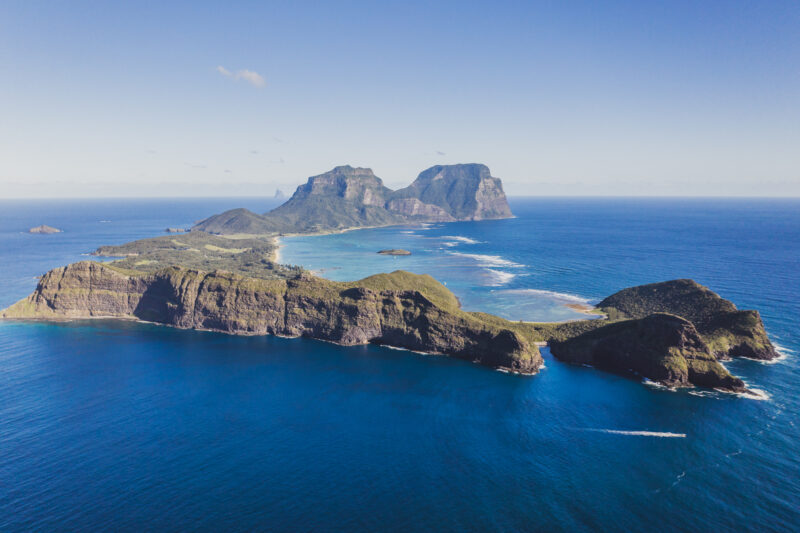 Getting to Lord Howe Island
Lord Howe Island (LHI) is almost directly east of Port Macquarie on Australia's east coast. You can fly from Port Macquarie, Newcastle and Sydney. Many people don't know this, but Sydney to Lord Howe is only two hours' flight! Book with Eastern Air or Qantaslink. There's also been rumours of a direct flight from the Gold Coast being added to Eastern's schedule soon. Due to the island's small airstrip, large commercial aircraft are unable to land here, so you'll fly on a smaller jet. This means luggage is limited, so check your weight limit at time of booking. The smaller jet also means flights can be expensive.
UNESCO World Heritage protection
In 1982, Lord Howe was listed as a UNESCO World Heritage property. The biodiversity here is incredible, both above and below the surface. What makes LHI so unique underwater is that it is commonly referred to as one of the world's most southern coral reefs.  Located within temperate waters off Australia east coast, LHI is still strongly influenced by the East Australian current from the north that delivers life from the Great Barrier Reef. The results; a kaleidoscope of temperate, tropical biodiversity amongst an ancient volcano. 
Lord Howe's best dive – Ball's Pyramid.
Ball's Pyramid is the remnant of an old shield volcano lying 16 nautical miles to the southeast of Lord Howe Island. This sheer vertical monolith stands at over 600 metres high and resembles something out of "Jurassic Park," both above and below the surface.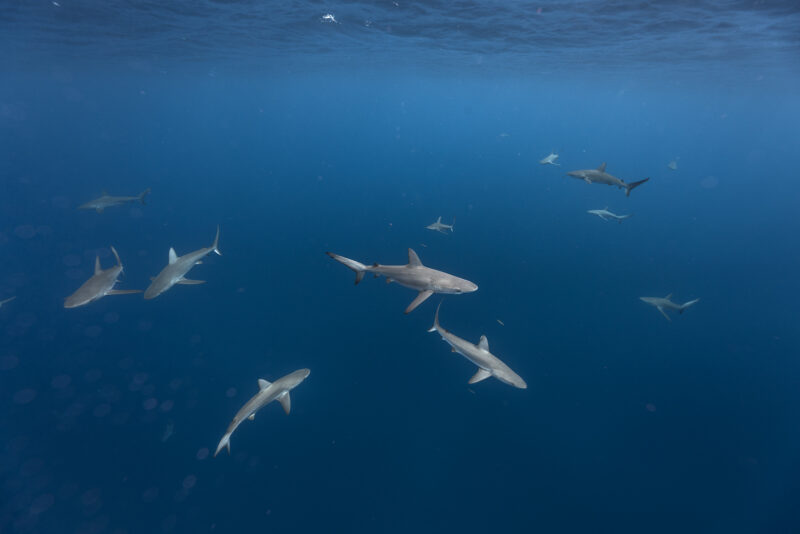 Schooling Galapagos sharks.  Pic (c) Todd Thimios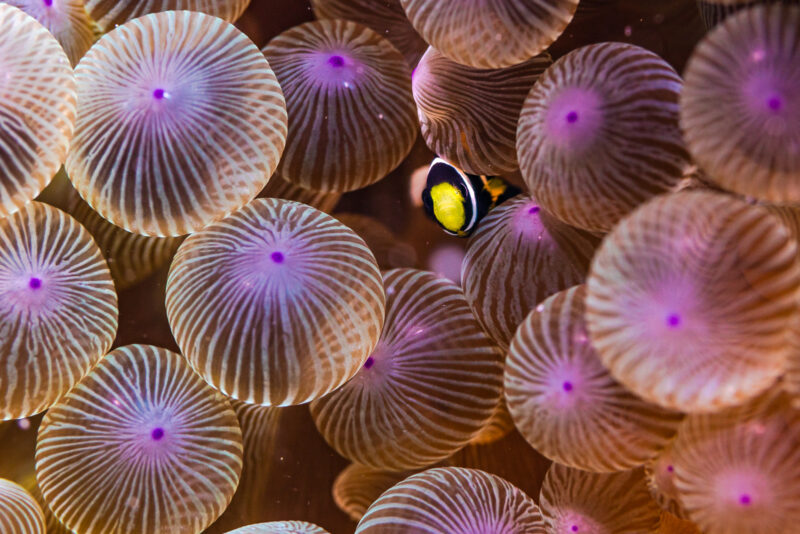 Lord Howe's McCulloch's Anemone. Pic (c) Todd Thimios
Where to stay
To protect the natural habitat and the local way of life here, visitor numbers are strictly regulated. There are just 400 visitor beds on Lord Howe Island, so unless you're staying with friends, you'll need to book your hotel before arranging flights. There's a range of rooms for various budgets, from homestays to luxurious resorts. Check out Tourism Lord Howe Island's website for the full range of hotels and prices. Oxley Travel, Spacifica Travel and Eastern Air offer some great flight/hotel packages.
Getting around
With limited cars on the island and a max. speed limit of 25km, most people prefer to cycle. All accommodations have bicycles available and/or included.
Climb Mount Gower
It'll take you the better part of a day to climb it, but the views are sensational and the walk is accompanied by lively commentary, thanks to your trusty local guide Jack Shick. Jack is a fifth generation Lord Howe Islander and a third generation mountain guide. He's climbed the mountain a staggering 2,000+ times! Rising 875m from sea level, this walk isn't for the faint hearted and you need to be reasonably fit to complete this 14km return / 8.5 hour trek. Tours are $110 pp and you must book ahead.
Bird watch
Lord Howe is bird watching heaven. From migratory sea birds like petrels and shearwaters, to endemic flightless cuties like the Lord Howe woodhen, which has been recently been brought back from the brink of extinction, you'll be surrounded by birds of all colours and sizes. And most of them don't seem to be too fazed by humans, either! Bring your camera and binocs and marvel at this rare island paradise where nature hasn't yet been imbalanced by human occupation.